Pickup trucks are versatile vehicles, but they do have some drawbacks like difficult parallel parking and higher fuel costs. If you don't regularly tow items for business purposes, an SUV might actually be a more suitable option-- especially since many SUVs can tow almost as much weight as a full-size pickup truck. In addition, SUVs come in a wider range of sizes and offer more luxurious features than most pickups. They're not ideal for farms or demanding construction jobs, but if you simply want to haul your recreational vehicle on vacation, these are our favorite non-truck options that will fit any size or budget restriction.
2022 Subaru Outback XT: 3,500-Pound Towing Capacity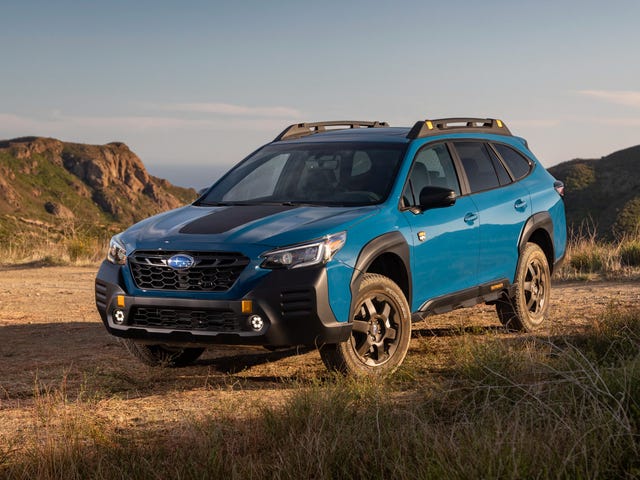 The Subaru Outback has long been a favorite of MotorTrend readers. The 2022 model comes standard with Subaru's classic AWD system, as well as a suite of safety features like Advanced Adaptive Cruise Control with Lane Centering and Pre-Collision Braking. It also boasts a five-star crash-safety rating. If driven carefully, the Outback can return up to 33 mpg on the highway; however, if you're towing the maximum 3,500 pounds, you can expect your mileage to suffer significantly. The Outback Onyx Edition XT starts at $36,270—making it one of the more affordable non-truck vehicles that can still tow reasonably heavy loads.
2022 Volvo V90 Cross Country: 3,500-Pound Towing Capacity
The Volvo V90 Cross Country is a rugged, off-road version of the sleek V90 wagon. Like the Subaru Outback XT, it comes with standard features like adaptive headlights and leather memory seats. However, the extra luxury also means that the V90 Cross Country starts at $57,295 – almost $20,000 more than the Outback XT.
2022 Chrysler Pacifica: 3,600-Pound Towing Capacity
Although you might not consider a minivan when looking for vehicles that can tow, some models have the ability to move trailers when properly equipped. For example, the Chrysler Pacifica on its top-tier Pinnacle trim level can tow 3,600 pounds.
The model gets a standard 220-amp alternator, "heavy duty" radiator, tow hitch with a 2.0-inch receiver, brake-actuated trailer-sway damping tech, and trailer-wiring harnesses. However, it also starts at $54,795 for 2022. The tow package isn't available on any other less expensive Pacific trim this year either.
2022 BMW X7: 7,500-Pound Towing Capacity
If you're in the market for towing vehicles that aren't trucks, you'll likely want an SUV. And if you prefer luxury while doing so, the BMW X7 is a top contender. If selected, the tow hitch increases the towing capacity of any X7 by 7500 pounds. Unfortunately though, because the tailgate sensor sits where the tow hitch would go on the X7's backside, opting for added functionality means losing out on a kick-actuated tailgate.
Why is towing important?
And there are occasions where the same cars break down unexpectedly, causing anxiety and stress. In such cases, car towing services come to the rescue. They assist with getting the broken down car back home, or they drive it to a mechanic and fix it right away.
Are automatics good for towing?
Today, most automatic cars can tow without any great risk of overheating so long as the legal towing limit is respected. Bill McDonough of independent gearbox specialist, Hardy Engineering, sees no reason to fit extra cooling to a modern automatic when towing.